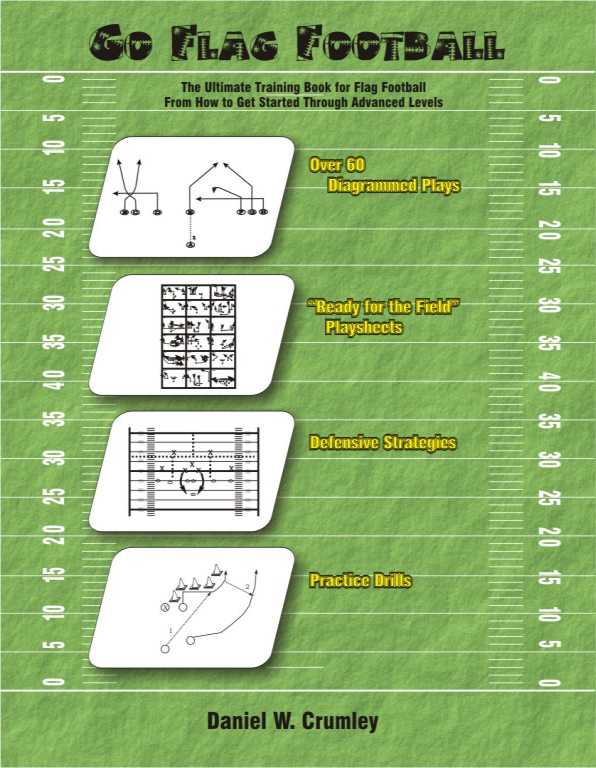 PRODUCT: 7-on-7 Go Flag Football Playbook
PRODUCT ID: 005GFFP
OUR PRICE: $15.00
Third year best seller!
This playbook includes 120 pages of detailed flag football information, including over 60 diagrammed plays with play sequence and player responsibilities. Each play is illustrated on a football field grid so your team can see how the play should appear and where each player should be located. All the players can visualize how the play works.
Detailed defensive line-ups are also illustrated. These illustration display the coverage area of each player and his or her corresponding responsibilities. Helpful tips describe when each line-up should be used.
The Go Flag Football Playbook was written to cover all aspects of the game, from beginner to advanced levels. Key points include:
A "Ready-for-the-Field"TM playsheet. Take this sheet directly from the playbook to the field

Over 60 diagrammed plays

Illustrations on a football field grid with player responsibilities

Tips for when each play works best and against what type of defense

Pass routes and techniques

Rules and regulations

Practice drills (pitching, flag pulling, pass routes, and more)

Defensive line-ups

Special teams line-ups
Plays are illustrated for 7-person and 8-person, but can be adapted to any style of play. Purchase Go Flag Football directly from author. Learn the secrets to flag football plays that WIN GAMES! These plays have been proven to bring teams to CHAMPIONSHIPS! Ask us about quantity discounts when purchasing for entire leagues or teams.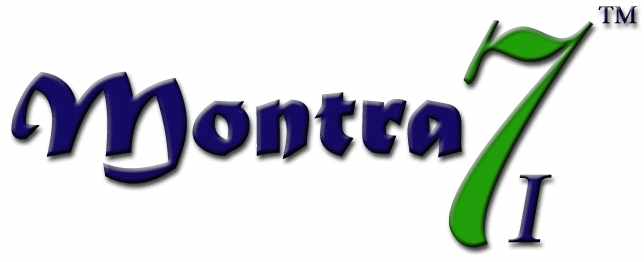 PRODUCT: Montra 7I Offensive Playbook
PRODUCT ID: 005M7I
OUR PRICE:
$3.99

Printable Playsheet!
This is the MONTRA-7I Offensive strategy for flag football. The Montra 7I series is for 7-on-7 flag football. These plays were strategically designed to condense the defense and create never before seen play action. Each of the offensive line-ups use a similar basic concept, but employ slight variations to prevent the defense from recognizing plays.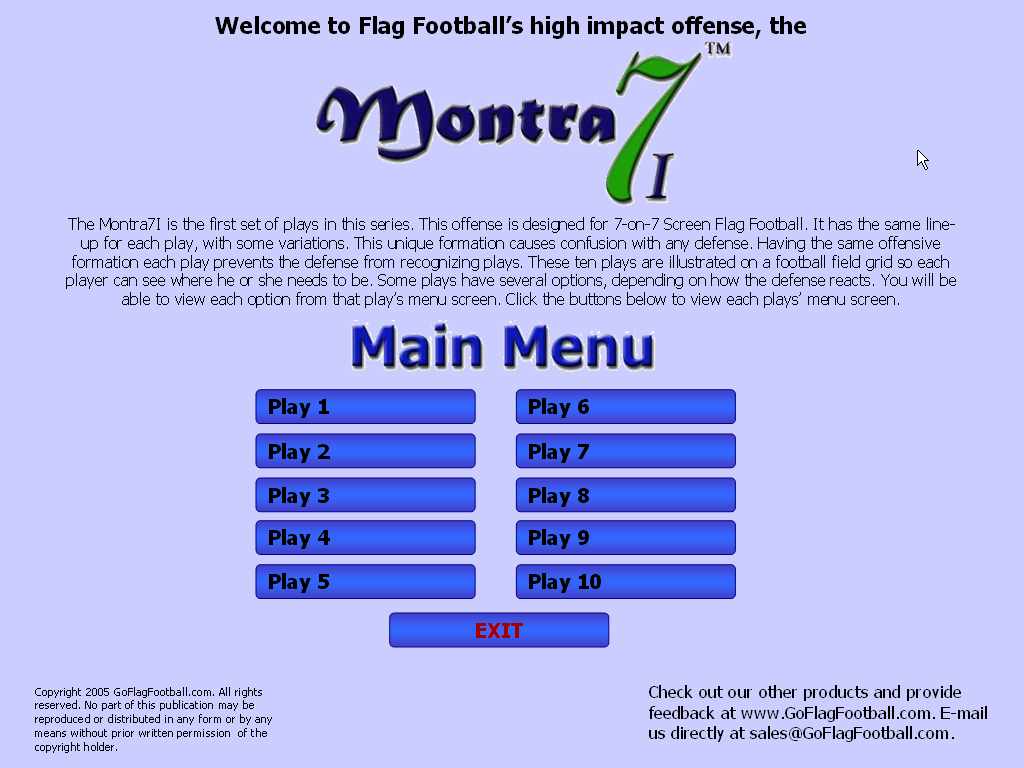 This product features ten plays of the MONTRA-7I series. You can
DOWN
L
OAD
the MS PowerPoint Show electronic file within
MINUTES
of purchase.
PRINT
the playsheet anytime you wish.
This is a menu-driven presentation that allows the user to view each play, look at different options for each play, and read detailed instructions for each player on the offense. Each play is ANIMATED so you are able to visualize how the play should be successfully run. The plays are designed on a football grid so each player can see where he or she needs to be. Some plays will show multiple options of how the play can work, depending on how the defense reacts.
What is included:
Electronic MS PowerPoint Show file.

Ten high impact and successful plays.

A schematic for each play detailing each player㠲esponsibilities.

An animation of each play to see it in action.

Variations on some plays, to provide different scenarios.

Guided menus to easily review each play.
Computer System Requirements:
You must be running on Windows 2000 or greater platform.

Must be able to download or receive e-mail files 2.0MB or less.
Please Note: The Powerpoint Show file is now equipped with printing capabilities. You can print a "playsheet" with all ten plays. If you want the plays in other printed formats, see our Laminated Playsheets.
If you need this file mailed to you, we can burn it to a CD and mail. Please e-mail us for additional arrangements and shipping/handling costs.